HAPPY 2004 PEOPLES!!!
THIS IS HOPING THE NEW YEAR BRINGS EVERYTHING WE'VE HOPED AND WISHED FOR.
Many have been asking what I think will happen to my boy Kobe Bryant. Well, the answer is very simple "NOTHING!" Many have gone that route before him and also more will follow but none of 'em will fall, unless they are outrightly stupid enough to say they did commit such a crime. Don't worry y'all, KB will be acquitted and back in time to snatch another for the Lakers. But that don't mean y'all should go 'bout cheating.....Word!!!
Singer, songwriter Barry White dies at 58
: He will forever be remembered for great hits like "Practice What You Preach," "Staying Power," & "Can't Get Enough Of Your Love" amongst others. He died after a brief illness on July 4th, as a result he is honored on this site as the
featured artist of the month
, in fact, for the next two months.
This is a personal "Shout-Out" to all the Nigerian peeps' that made it down to the recently concluded reunion event. It was definitely fun having y'all around. To all the new friends that were made, you know who you are, take care & let's keep in touch, Aight! Holla Back.
"Heaven, Somebody I need a hug?"
with the
L.A. Lakers
and the
London Gunners
both losing out from defending their respective championships, this has turned out to be my saddest year in sports in the last 5yrs. Not even Arsenal winning the English F.A. Cup to round off the season was enough consolation. So at this point, my season has ended. Thanks you guys for giving me something to hope for. Till next season, when we'll be sure to do the damn thing then!!!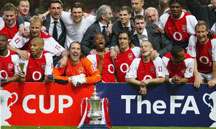 My number one club, Arsenal F.C. of London today ensured that they did not end their season long run without something in the trophy cabinet by scraping an F.A. Cup final victory from the Saints of Southampton with a lone goal. Robert Pires, who missed out on last year's final was the hero this time. Arsenal 1 - Southampton 0 (May 17, 2003)
Remember that movie I told y'all was about Nigeria and starred Bruce Willis? Well, its out now and the initial title of "Hostile Rescue" was dropped. Rather its been out since Februaury as "Tears of the Sun"
Though I don't understand what part of Nigeria's sun sheds tears, but it still sounds like a fun flick to wacth, especially for all you action-packed movie lovers. Why not go out and see it, it promises to be a good laugh to all my Nigeria brothers and sisters out there who know that such stories do not apply where we're from. (Posted: April 1, 2003)
November 2001: Nigeria produces the first Black African Miss World at the 51st Annual Miss Universe pageant held in Sun City, South Africa.
"The Samba Boys" of Brazil emerge champions for a record 5th time at this year's edition of the FIFA World Cup. And in my opinion, they truly deserved it.